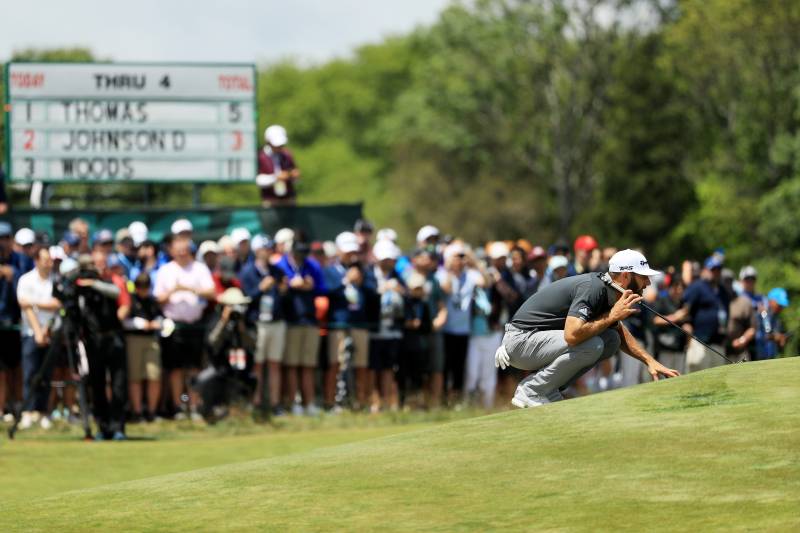 Mike Ehrmann/Getty Images
Dustin Johnson started the third round of the 2018 U.S. Open Golf with a healthy four-shot lead on Saturday in the hunt for his second major win.
The 33-year-old won the tournament in 2016 and was the clear favourite going into moving day, as he was the only player to have consistently dealt well with the tricky weather conditions and course at Shinnecock Hills Golf Club.
Rory McIlroy and Tiger Woods failed to make the cut, and only three players (Johnson, Scott Piercy and Charley Hoffman) were par or better after the first two rounds. Justin Rose, Tommy Fleetwood, Henrik Stenson, Ian Poulter and Brooks Koepka trail the leader by five shots.
Here's a look at how the leaderboard looked before Saturday's play:
1. Dustin Johnson, -4
T2. Scott Piercy, E
T2: Charley Hoffman, E
T4. Tommy Fleetwood, +1
T4. Henrik Stenson, +1
T4. Justin Rose, +1
T4. Ian Poulter, +1
T4. Brooks Koepka, +1
For the live leaderboard, visit the U.S. Open's official website.
Johnson finished Friday's round with just a single bogey on his scorecard, doing some sensational work with his approaches and short game. In the first two days, the top-ranked golfer in the world lived up to the expectations, which were heightened after he won the FedEx St. Jude Classic tournament earlier this month.
Per ESPN's Kevin Van Valkenburg, the relative ease with which he has played this course is all the more remarkable given how new it is to him:
His closest competitors after Friday were Piercy and Hoffman, but most fans will have been keeping an eye on the talented group that sits behind those two.
Stenson, Koepka, Rose, Fleetwood and Poulter rank among the PGA Tour's most consistent players, and all of them have won silverware in the past. Rose in particular started the tournament among the favourites and would be considered more than capable of overturning a five-shot deficit over the course of two days.
Unfortunately for the Brit, Johnson's excellent form is hard to overlook: